Always wanted to just sit on the couch, munch on crispy chips and spend hours binging on Netflix? All that while hoping the campaign that you're working on would just complete itself when you're done?
Viral Marketing
As defined by Kaplan & Haenlein, it is a form of word-of-mouth (WoM) that is spread at an exponential rate through social media. This method applies the Pareto's 80/20 Principle. Doing only 20% of the work (igniting the WoM) and lets the other 80% work out by itself (WoM explodes through social media).
Case study of Hunt The Mouse (OCBC partnering with OCBC)
OCBC worked with Sqkii to run a viral marketing campaign "Hunt The Mouse" secured a Bronze in the MobEx Awards 2018 for Best Campaign – Social Platform and a Gold award for the Best Campaign – Viral Marketing category.
OCBC & Sqkii initiated this viral marketing campaign and received a positive outcome. Making "Hunt The Mouse" a Triumphs in social media viral marketing campaigns.
It met the 3 conditions that were mentioned by Kaplan & Haenlein:
Messengers – Sqkii dispersed the message through their social media account with strong brand advocates. These advocates would play the role of Market Mavens & Social Hub, spreading the message of the campaign. The local media was quick to pick up on it.
Message – The $50,000 winning cash prize was announced
Environment – Luck was on their side that the campaign was positively received.
What did OCBC get from this?
Apart from OCBC running a cool campaign, did they actually achieve anything from all of this?
1. Product Awareness
Firstly, the overall purpose of the campaign was to bring awareness to their new all-in-one payment solution application: OCBC Pay Anyone. With the QR payments industry being very competitive, with other platforms launching before them. By running such an interactive & entertaining campaign, they managed to break away from the clutter.
2. Shorten the decision-making process
This campaign pushed participants to jump ahead in the consumer's decision-making process, skipping almost all the steps and going straight into purchasing/taking action (downloading & using the OCBC Pay Anyone application). OCBC Pay Anyone 's special access to the additional hints was the main reason for this. Participants didn't even think twice to take action and download the app.
3. Induce trial & brand switching
Apart from gaining customers that were new to all-in-one payment apps. Some of the participants of the Hunt The Mouse contest would have been using a competitor's app. By having special access to extra hints only through OCBC's app, it encouraged the participants to switch brands. Hence, another big win for OCBC.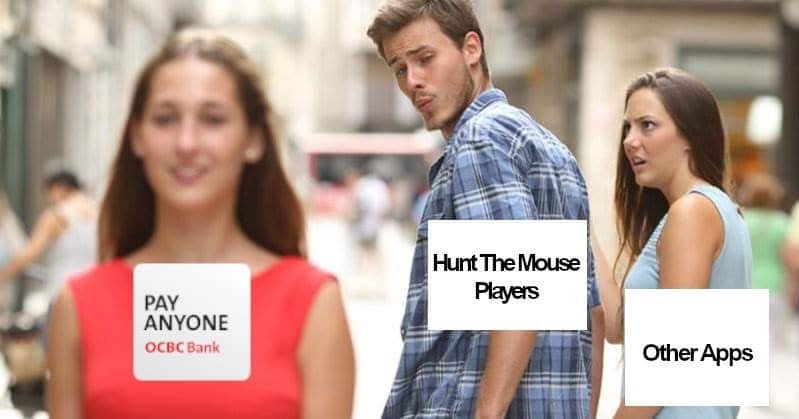 4. The bottom line
By sponsoring $50,000 as cash prize and spending $1,500 on media, the campaign generated:
12.5 million impressions
2,408 user-generated content
100,000 sales transaction
14% increase in OCBC Pay Anyone app downloads
Viral marketing is a potent weapon that could generate high returns with a small budget. However, with higher returns, there are higher risks. Sometimes a viral marketing campaign could generate a negative outcome and it might just be due to a lack of luck, an example would be National Geographic's publicity stunt to promote "Every Singaporean Son". Hence, in viral marketing, you either go big or you go home.
Have you seen any interesting viral marketing campaigns? Share it in the comments below.
Written by: Azrin Hamdan